The Wedge Still Walking Tall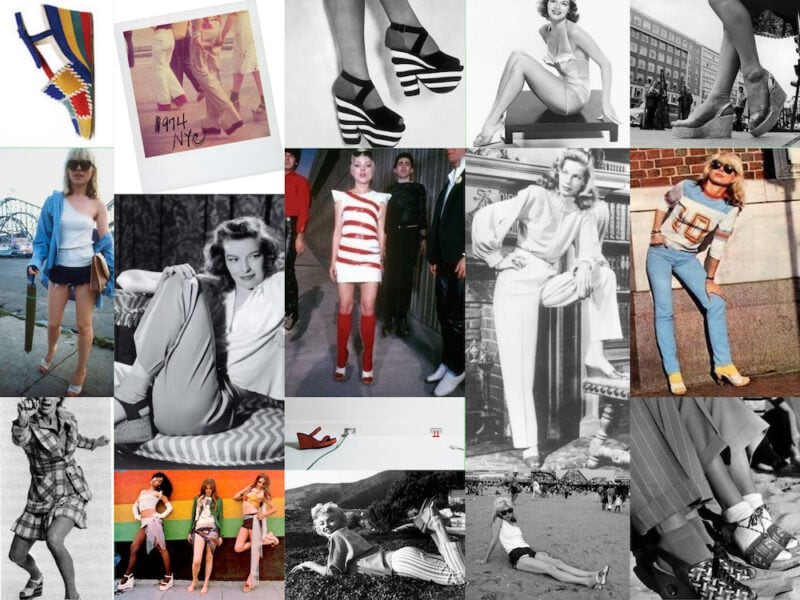 'Classic is modern' is something of a mantra for Ops&Ops. For us, it's style that looks as fresh today as when it was first launched. 
Take our No15 wedge mules. American Vogue was bigging up this style of shoe back in May 1938 advocating them as a shoe for most occasions – a match for "house pyjamas" or "city pavements". How now is that?
And they opined, "Women who bought them first because they were new and amusing now cling to them because they are incredibly comfortable." Stylish, modern and comfortable – it was the word then and at Ops it's the word now.
The wedge was big news in the late 1960 and 1970s, vertiginous wedges and more out-there glam-rock inspired. As we've moved into making different styles, we've continued to recall the influence of musicians. Debbie Harry, a beacon of independence and modernity was very much behind our No15, particularly the bright vibrant colours we choose.
The collage above is a photo of the mood board for our No15s. It shows why the style is a fashion favourite of ours and why it was favoured by so many women from the get-go.
They're just right for summer: for staying at home, for holidays. They're not just for now either – they'll make the perfect party slip-on in a few month's time. And they're 50% off in our summer sale.