Vintage, New and Somewhere in Between – Ops&Ops in the Studio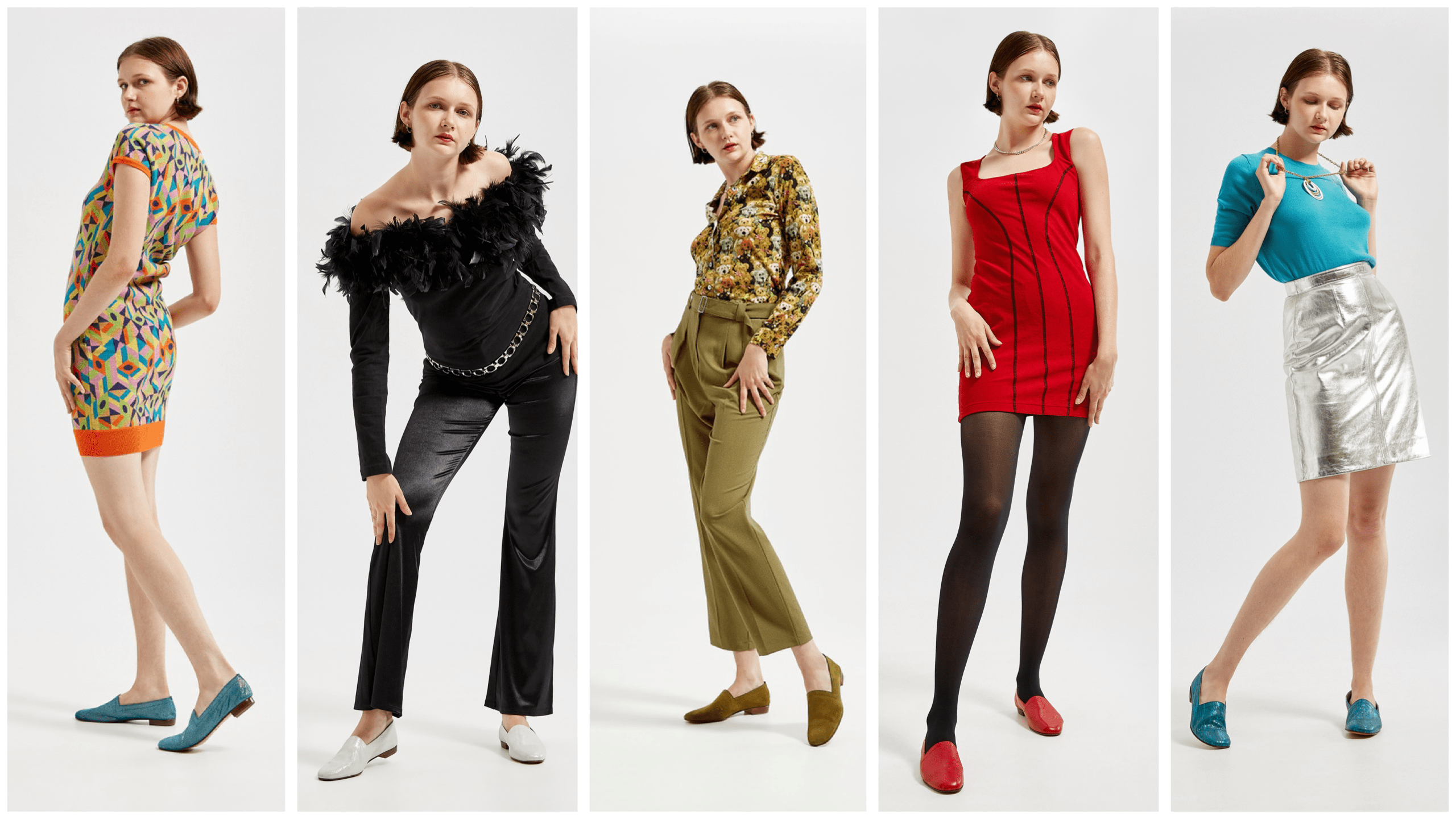 We headed to the studio a few weeks ago with our friend Marla Jackson to get some shots to show varied looks you can create with our shoes and boots.
When it came to styling, Teri and I decided to use a combo of our own clothes and items from Ops' fashion cupboard. Our personal stashes featured vintage, some pieces with a few years on the clock and some new, bought for their classic look. All a mix of designer, high street and even a hand-knitted sweater by my mum.
What made it so seamless on the day was how easy it was to pair what was hanging on the rail with our footwear. Whether the outfit was full-on vintage, brand new or a mash-up of the two, our shoes and boots made a great fit.
We had a few trips down memory lane in between shots, recalling when we had bought or worn certain garments, but what struck us was how current everything looked. In fact, a glance at Vogue tells us that Y2K and body-conscious clothes, leather – skirts and dresses – and minis are trends for the coming season. Plus knits – for day and night – and glamour is the word for evening wear. 
With the party season around the corner, we wanted to show how our loafers can hold their own on the glam circuit (see pic above). Lurex White anchoring boa feathers (courtesy of Miss Selfridge some decades ago) and satin; Lipstick Red paired with an early-90s red dress (from Way In, Harrods back when it was a go-to store) is colour-block ideal. Office bash straight after a day at the office? Our chum David David's pattern knit body-con dress partnered with Lurex Blue, or a silver skirt from Alexa Chung with Woodland Green will take you there. A fancy lunch? A Warehouse teddy-bear shirt from 1995 with trousers and Olive nubucks looks polished but relaxed.
Our other metallics and patents will add oomph to knee-length dresses, jeans and draped trousers of all shapes and colours.
Similarly, our new Gold Duo boots look amazing with vintage pattern and for grown-up sass, Modern Grey and Purple Duo work very well — and like all of our footwear, both on and off the dancefloor.
Vogue also talks up the return of 'beautifully made clothes you can wear anytime, any place'. We sell our kicks on the premise they are made to be worn, straight from the box, round the clock. No matter the day, no matter the occasion. This shoot is further proof.