Go-Go Boots – are Go!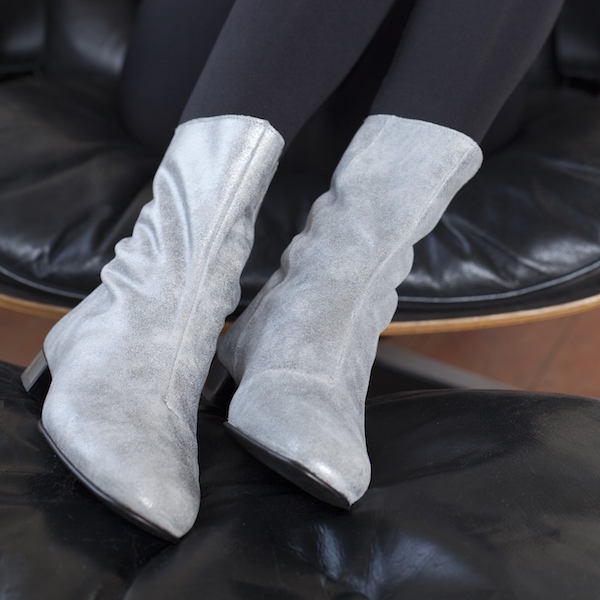 Go-Go boots. They're up there with Dorothy's red slippers, Roger Vivier's Pilgrim pumps and Audrey Hepburn's Penny Loafers in footwear folklore. Not just an icon of the 1960s, go-go boots are among the most iconic shoe and boot trends of the 20th century.
André Courrèges was the magician who introduced the go-go boot.  A white mid-calf boot with a flat black heel, they anchored his space-age look first sent down the catwalk in 1964. The boots were made from leather, matte and patent, vinyl or PVC. Styles had either a cut-out around the top or pleated detail. An instant hit, they defined both the youthquake movement of the time, and the sophisticated look of French stars such as Catherine Deneuve.
Where did the name come from?  Theories abound. From the French word à gogo, which translates as abundance. Or the idiom 'all the go', meaning trendy. It's likely it came after go-go dancing, which grew in popularity during the mid-1960s. In January 1964, following on from the original in Paris, the Whisky à Go Go nightclub opened on Sunset Strip, Hollywood. 
Go-go Dancing
On the club's opening night, the club's cigarette girl was asked to step in for the DJ, who couldn't make it. In the booth, suspended high above the dance floor, Patty Brockhurst began spinning records. Pretty soon, she began dancing to them and the go-go dancer was born. Club owner Elmer Valentine took on two more girls to dance and one of them, Joanie Labine, introduced the go-go uniform – fringed clothes and white boots. The rest is history.
Go-Go boots achieved global, starry fame in 1966 with the Nancy Sinatra hit These Boots are Made for Walking. The went on to star in countless films and ad campaigns. Airline attendants wore them and other designers, like London's Mary Quant, began making them. The style began to develop. Heels were added, they became taller, and came in myriad colours. By the early 1970s the knee-high, block-heel boot was the fashion must-have.
Chic, stylish and elegant, go-go boots are also fun and practical. Wear-with-anything great. In celebration of this design classic, here are some of our favourite images and clips of go-go boots in action – and the inspiration too for our No12s. Get them now, on sale!